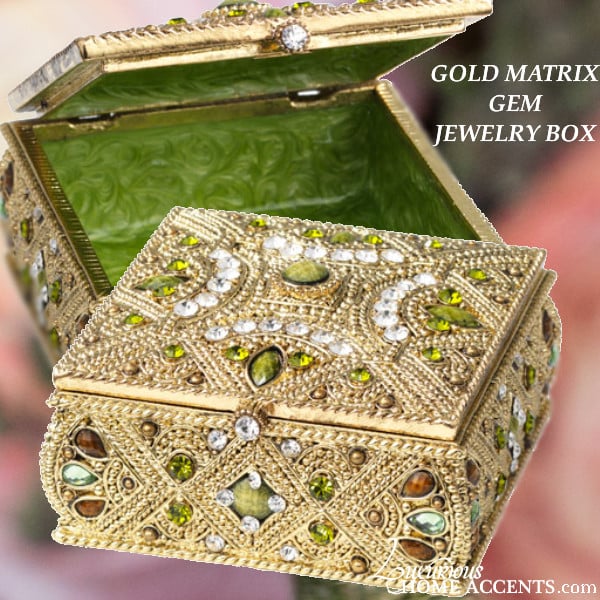 Matrix Gold Jewelry Box
The Matrix Gold Jewelry Box is a multi-colored gold and gem box with the gems inset into the metal form.
The Matrix Gold Jewelry Box is made of cast pewter in gold finish with hand-set clear and olivine European crystals and semi-precious brown and green serpentine stones. Hand-enameled interior in celadon hues. Tarnish resistant. Signature luxury gift box included. Size: 3"L x 3"W x 3.5"H
---------------
Custom order. Approximately available to ship within 2 weeks or sooner. All sales are final.
Please note that all Luxurious Home Accents are custom made just for you. By placing your order you acknowledge, agree and accept that all our products fall under a no refund and a no cancellation policy. All sales are final.
Gem Trinket Box, Gold Engagement Ring Box, Gold Engagement Ring Presentation Box, Swarovski Crystal Gold Engagement Ring Box, Swarovski Crystal Gold Engagement Ring Presentation Box, Present Engagement Ring Box, Present Engagement Ring Presentation Box, Swarovski Crystal Present Proposal Ring Box
Rhinestone and Gem Gold Ring Box, Gem Gold Ring Box with Swarovski Crystals, and Gem Crystal Gold Ring Box, and Gem Crystal Ring Presentation Box, Pearl Crystal and Gem Gold Ring Box
Pearl and Gem Rhinestone Gold Ring Box, Pearl and Gem Gold Ring Box with Swarovski Crystals, Pearl Crystal Gold Ring Box, Pearl and Gem Crystal Gold Ring Presentation Box
Gold Engagement Ring Box, Gold Engagement Ring Presentation Box, Gold Swarovski Crystal Ring Presentation Box, Gold Swarovski Crystal Engagement Ring Box, Gold Engagement Ring Presentation Box, Gold Swarovski Crystal Ring Presentation Box