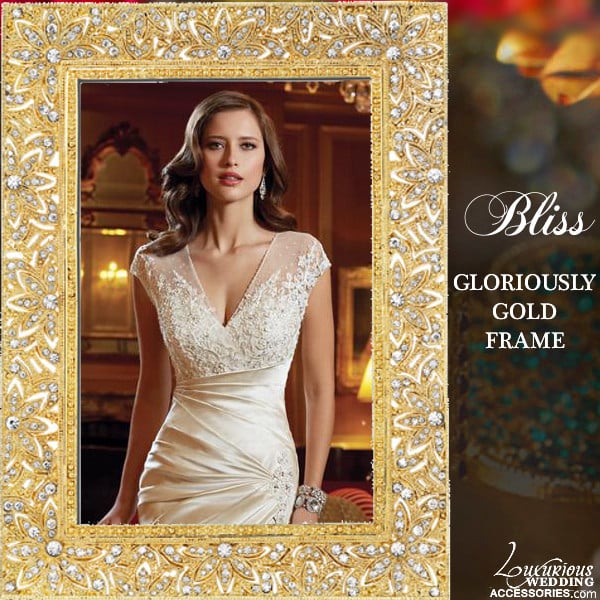 Gloriously Gold Picture Frames
The Bliss Gloriously Gold Swarovski Crystal and Gold Picture Frame features a gold finished cast pewter banding encrusted with hundreds of hand-set clear Swarovski® crystals. Moiré silk graces the back with an easel for vertical or horizontal placement.
View the entire PICTURE FRAME COLLECTION.
Available sizes.
Photo size: 5" x 7" Frame size: 6.75" x 8.75"
Photo size: 8" x 10" Frame size: 9.75" x 11.75"
VIEW THE ENTIRE FLEUR and GLORIOUS GOLD COLLECTIONS
Approximately available to ship within 2 weeks. All sales are final.
As with all special orders and one of a kind pieces the color and essence may vary slightly from the photograph.
Please note that all Luxurious Home Accents are custom made or ordered just for you. By placing your order you acknowledge, agree and accept that all our products fall under a no refund and a no cancellation policy. All sales are final.
Gold Swarovski Crystal Picture Frame, Gold Rhinestone Photo Frame, Gold Bridesmaid Gift, Gold Attendant Gift, Gold wedding frame, Gold wedding gift, Gold Swarovski Crystal Photo Frame, Gold Swarovski Crystal Wedding Frame, big Gold wedding frames, Gold Jeweled Picture Frame
Gold Wedding Picture Frames, Gold Wedding Photo Frames, Gold Anniversary Picture Frames, Gold Anniversary Photo Frames, Gold Engagement Picture Frames, Gold Engagement Photo Frames, Gold Bling Photo 4x6 Frames, Gold Bling Photo 5x7 Frames, Gold Bling Photo 8x10 Frames