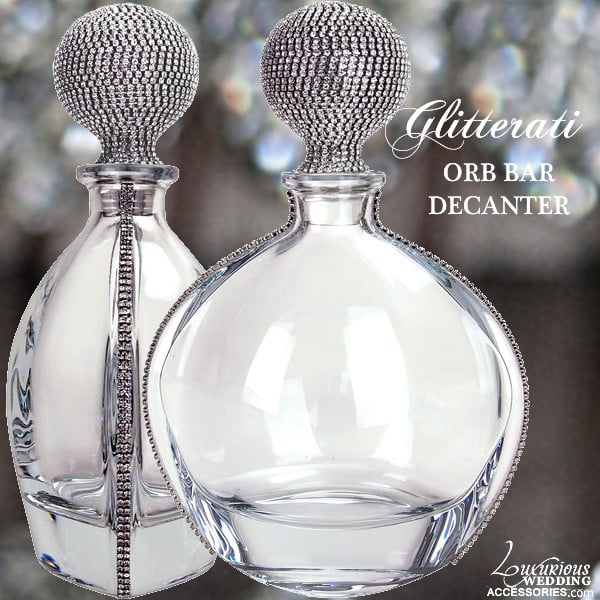 Glitterati ORB Kitchen Crystal Decanter
The Glitterati ORB Kitchen Crystal Decanters are made from hand blown glass that is adorned with blindingly brilliant hand applied cut crystal accents draping down the side with a crystal encrusted over sized stopper to top it off.
Great for storing any liquor or your favorite cooking extract.  Or fill it with tinted water just to admire the shape.
Dimensions: Width 6.5in. Depth 4in. Height 9.5in.
3 Week Delivery Time.
Store Policy: All Luxurious Wedding Accessories are custom made or custom ordered just for you. By placing your order you acknowledge, agree and accept that all our products fall under a no refund and a no cancellation policy. All sales are final.
-----------------------------------------------------
Silver Jeweled Wine Glasses and Decanter, Silver Jeweled Champagne Flutes, Silver Jeweled Wine Decanter
Silver Jeweled Wine Decanter Set, Sparkling Crystal Wine Glasses, Sparkling Crystal Decanter
Luxury Wine Decanter, Luxury Decanter Luxury Bar Accessories, Luxury Decanters, Luxury Decanter Set