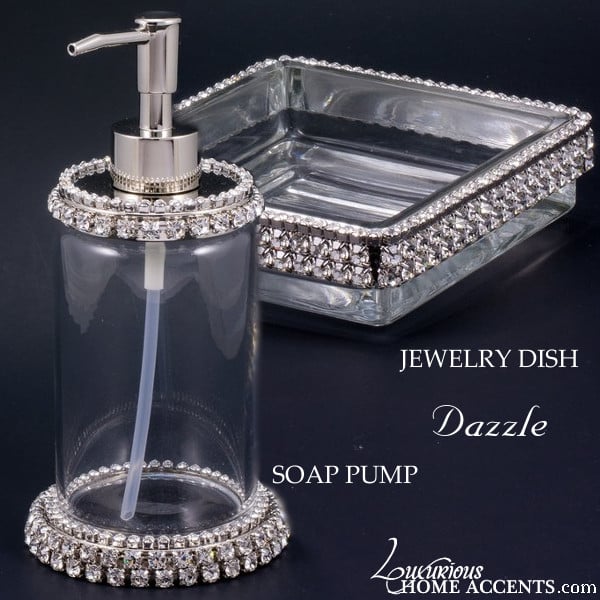 Dazzle Hand Sanitizer and Soap Pump
The Dazzle Swarovski Crystal Hand Sanitizer Holder is a pretty and practical way to suggest that everyone uses your favorite Covid-19 hand sanitizer. Can be used as a liquid soap pump too.
Being pretty doesn't mean you can't be taken seriously. This Hand Sanitizer Pump will make you and others want to keep the hand sanitizer on display front and center. Smooth clear glass forms the base and is encircled with authentic Swarovski Crystals on the top and base.
• Swarovski © Crystals
• Rhodium Plated
• Smooth Glass
• Size: 7"H x 3 ½"OD
WEDDINGS and EVENTS: A lovely way to display and solve the hand sanitizer problem. Put one on every table to be sure everyone feels protected. Your thoughtfulness will not go unnoticed.
This is an Isabella Adams Limited Edition piece of art that anyone would treasure. Signed and enclosed in an elegant Gift Box. Designed and Hand-Crafted in the USA.
Handmade in the USA. Gift Box included.
Custom order. Approximately available to ship within 2 weeks.
Swarovski Crystal Hand Sanitizer Pump, Hand Sanitizer Pump with Swarovski Crystals, Boudoir Hand Sanitizer Pump with Crystals, Yacht Hand Sanitizer Pump, Elegant Hand Sanitizer Pump, Silver Crystal Hand Sanitizer Pump, Unique Hand Sanitizer Pump, Hand Sanitizer Pump